IN-HOUSE TEG TRAINING NOW AVAILABLE WITH CORONAVIRUS (COVID-19) PROTOCOLS
The safety and well-being of our employees, clients and the community is of the upmost importance to GPT.
TEGS ARE SIMPLE TO MAINTAIN AND SERVICE
Clients worldwide can easily learn the basic steps to proper TEG maintenance.
Global Power Technologies (GPT) offers TEG training to clients, operating partners and service companies, as part of its product delivery service. Sessions are available at our corporate offices in Calgary, Alberta or Houston, Texas. Or on-site training can be offered as requested. Customers can tour our facilities and interact with our remote power specialists, while learning more about TEG operation and the minimal maintenance they require.
TEG TRAINING 2024
Canada
March 13, 2024
June 12, 2024
Sept 11, 2024
Nov13, 2024
United States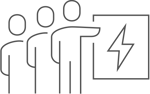 To book a training session, please contact your account representative to register, or call:
On-site training at your location is also available. Please contact your account representative or email for more information:
WITH GREAT POWER
COMES GREAT
SERVICE
With minimal training, our systems are easily serviced yourself,
but we are available to provide professional service any time, any place.