EVERY WATT COUNTS
Global Power Technologies (GPT) works closely with clients to ensure the highest possible reliability in a remote power solution.
GPT's Engineering Team will advise and recommend the best power solution to meet the electrical demand of the site.
WE KNOW POWER
Design oversights for off-grid can be costly and time-consuming. Common oversights include:
Treating off-grid sites like grid sites
Overlooking operating expenses
Selecting unreliable sources of power for critical loads
Choosing incorrect battery backup
Meeting regulatory requirements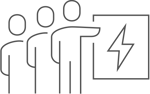 GPT's team of power professionals can handle every aspect of remote power delivery for your site, from sizing the load to evaluating battery needs and meeting regulatory requirements.


WITH GREAT POWER
COMES GREAT
SERVICE
With minimal training, our systems are easily serviced yourself,
but we are available to provide professional service any time, any place.